SHELF STRIPS Categories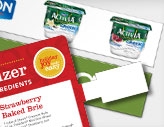 Results 1 - 4 of 4
Show: Items Per Page
Shelf Strips are an inexpensive way for the company, trying to promote their brand, to point out their product. Special sizes? Call for a quote as there is no need to settle!

Shelf Extenders extend from the shelf outward. You will see this advertisement, with its 2 sided printing where ever you are in that aisle.

Shelf Danglers bounce around with the air movement causing attention. Custom shapes and clear material available. 2 stock shapes; round base and square base. Contact factory for additional...

This shelf point of purchase folds in order to sit on the shelf with the copy area hanging down. Product holds this piece in place. Catches the eye as a customer walks toward the POP item.
Results 1 - 4 of 4
Show: Items Per Page