Luggage Tags Categories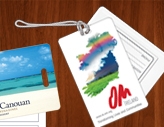 Results 1 - 4 of 4
Show: Items Per Page
Smart Travel Tag is an economical Mailer. Variable Data Capabilities. Designed for a #10 Window Envelope. Can be automatically inserted and eliminates a mail house! Supply the artwork and excel file of the mailing list and we do the rest!

Mini Smart Travel Tag a smaller version of our very popular Smart Travel Tag. Variable Data Capabilities. Designed for mailings (since, even the strap is flat) - fits in a #10 envelope, goes through the mailing equipment and does not increase...

All In One Luggage Tag is designed for mailing purposes as it eliminates the bulk caused by a clear loop strap. Stock designed, laminated luggage tag is a smart looking event hand out also!

Luggage Tag that looks like leather and looks like the imprint is debossed; but it's not! This is our new soft touch plastic luggage tag which we call, pleather. If your client is looking for a leather luggage tag with a plastic budget; we offer...
Results 1 - 4 of 4
Show: Items Per Page