ID TAGS Categories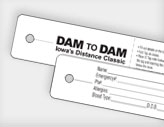 Results 1 - 4 of 4
Show: Items Per Page
Shelf Extenders extend from the shelf outward. You will see this advertisement, with its 2 sided printing where ever you are in that aisle.

Shelf Danglers bounce around with the air movement causing attention. Custom shapes and clear material available. 2 stock shapes; round base and square base. Contact factory for additional information.

Rugged, laminated matte finish ID tag will look new year after year once attached to a running show or biking shoe. Now that's great business card retention! Also, we will donate 5% to Cancer Research on the purchase of any pink product from...

New, amazing, larger Comfort Strap. Designed to keep the uncomfortable elastic on face masks off the ears! This is adjustable for a perfect fit by following the stock instructions on the back! Laminated plastic gives the item durability and...
Results 1 - 4 of 4
Show: Items Per Page