HOSPITAL BADGES Categories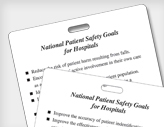 Results 1 - 8 of 8
Show: Items Per Page
Patient Goal badge is worn underneath the hospital employee's ID tag to remind hem/her of their commitment to the patient.

Standard information of what's expected to be done in the event of a fire is what's on this tag, which lays behind their ID Badge.

Since there is nothing standard within the healthcare industry, regarding Emergency Codes/Colors, hospital employees must wear this badge which is usually behind their picture ID Tag. Basic design is 4 color process to indicate different colors...

Personalized pictures and information on ID badges are terrific programs to round out your business. If your client is interested in an ID Badge without a picture, please refer to ID-30 which is less expensive

Badge Mates allow for quick easy identification of key hospital personnel, including nurses, students, doctors, RN, LPN, LVN and more. By adding a colored badge mate behind The existing photo ID, both staff and patients will easily be able to...

Badge Mates are used every day by Hospitals. Since states have been requiring stricter mandates to include titles of their healthcare employees, rather than redo the picture ID badges, our Badge Mate becomes a less expensive way to go. In addition...

ID Badge with variable data include on one side. Variable data is for name only...If you are interested in a Picture ID Tag, please refer to ID30-P.

Badge Mates (UV coated) reminds all of an up-coming or on-going event, such as a Blood Drive, Flu Vaccinations, Sanitizing, etc. This inexpensive badge goes behind the ID badge and drops below for visibility.
Results 1 - 8 of 8
Show: Items Per Page