COUNTER & WINDOW SIGNS Categories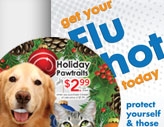 Results 1 - 3 of 3
Show: Items Per Page
Rectangular Counter Change Mat has a Textured Hardcoat Top and Removeable Adhesive Backer and Solid Plastic Core. Does not leave a residue.. Huge Ad Space for client!

Hours of Operation Sign has 2 pieces of double sided tape attached along with 1 vinyl sheet of numbers (packed bulk). Large advertisement area as patron leaves shop and an advertisement and hours of operation as they walk into shop.

Rugged, laminated matte finish ID tag will look new year after year once attached to a running show or biking shoe. Now that's great business card retention! Also, we will donate 5% to Cancer Research on the purchase of any pink product from...
Results 1 - 3 of 3
Show: Items Per Page