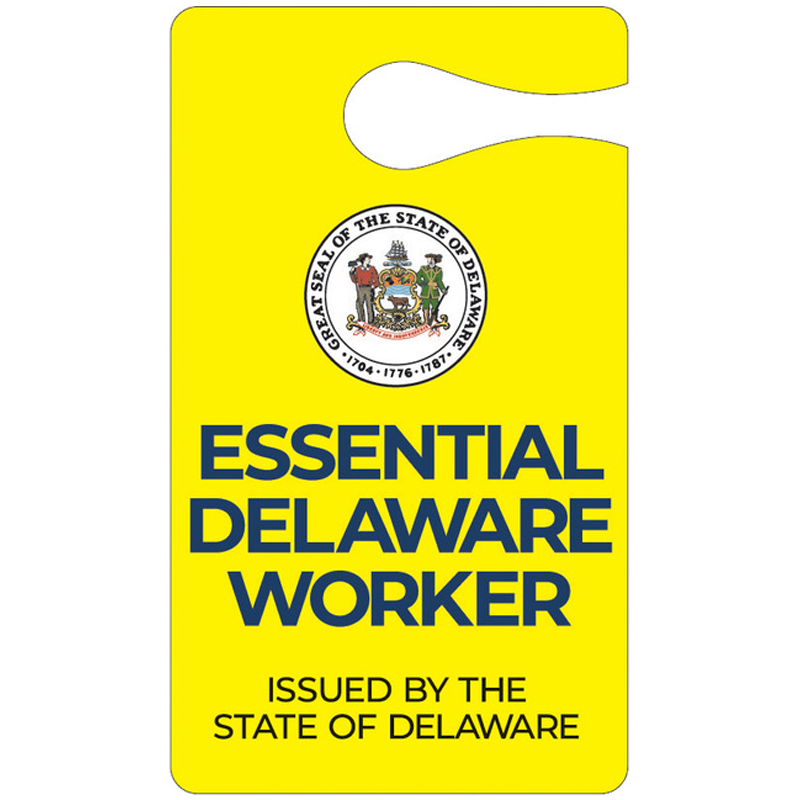 DE State Police have been stopping every vehicle with out-of-state plates and advising them of the quarantine mandate from the governor, during this pandemic.  To avoid being stopped by police when going to and from work, the state of Delaware issued Essential Workers yellow plastic rear view mirror hang tags.  These were given out to healthcare workers along with government Essential Workers to hang from their rear-view mirror. The bright yellow tags are highly visible to oncoming traffic and any parked police vehicle monitoring traffic. These were given out the beginning of April.  The yellow rear view mirror tag permitted the passing of these cars through police check points.
On the backside (facing the driver), "Make It Matter" with a thank you from the CEO to their employees for their dedication.  Include what their company is doing to promote a healthy environment for them.  This would reinforce the company's appreciation.  This Essential Worker Hang Tag can continue to acknowledge recognition once this pandemic passes.  Add a bar code and number and now this can tie into supporting future recognition programs such as reduced parking during Nurse Appreciation week, etc.
Other prospects for this item are hospitals, technology, pharmaceuticals, utility companies, aeronautics, auto industry, computer, newspaper, airports, banking, supermarkets, etc. 
10 working day production (after proof approval).  Rush service is available.
Item Number: RVM30-M can be found on our website. The pictured design is in 4 color process.